Posted by admin in : Hardware , trackback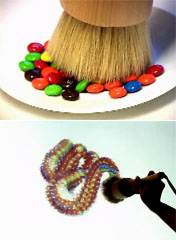 http://web.media.mit.edu/~kimiko/iobrush/
This has been around for a while now but I'd not come across it until I noticed someone mention it in a gadgets blog. It's a prototype for a digital painting tool aimed at children. The children use a device that the inventors say looks like a regular paintbrush (although it's bigger than any paintbrush I've ever come across) to capture colours, patterns and images from any object they want. Inside the giant paintbrush is a camera that grabs the images and the paintbrush is then used to paint onto a touch sensitive interactive whiteboard-style screen. It's worth visiting the site just to look at the video demonstration as it's quite amusing. I can see this sort of device being a lot of fun in a museum's visitors centre but I'm not completely sure of its long term educational use!